Usually, the lighter side of the Capitol — and definitely this week. 
The rubber band ball mystery continues
The pride of the Senate Republicans, their entry for this year's rubber band ball drop, has been missing for a week now.  Sen. Jim Smallwood of Parker has moped around the chamber all week, from time to time with rubber bands in his hand and a lost and lonely look in his eyes.
Won't someone please think of the senator?
Wednesday, the mystery deepened. A ransom note, complete with figurines of Elizabeth Warren, Ruth Bader Ginsburg and Kamala Harris, showed up on Smallwood's desk. His desk has now been declared a crime scene by Senate Majority Leader Steve Fenberg. 
The ransom note declares that if the Senate Republicans want their ball back, they'll have to work on adjourning no later than June 7. 
Capitol M believes that request is a bit misplaced, given that it's the House where a June 7 adjournment is the least likely. That gives rise to the possibility that the thief is likely someone in the House. Rep. Matt Gray of Broomfield swears it isn't him.
Fortunately, the dogged, eagle-eyed reporters of the Capitol Press Corps are ON. THE. JOB.
Jesse Paul of the Colorado Sun said he scored a typo-laden interview with the thief.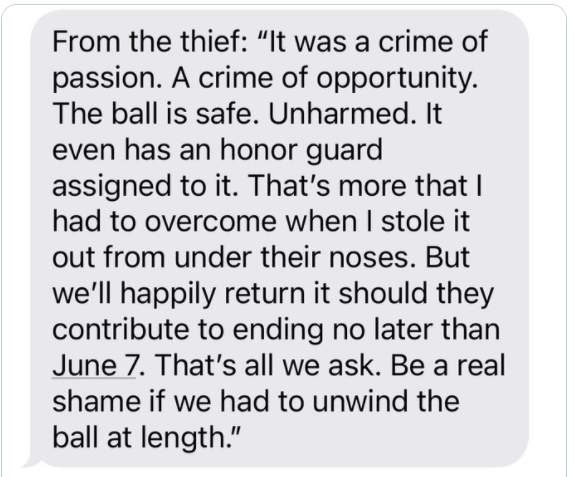 The figurines, as it turns out, belong to Sen. Faith Winter of Westminster, as reported by Alex Burness of The Denver Post. Winter is adamant that she didn't take the rubber band ball nor write the ransom note, and that the figurines were swiped off her desk. A likely excuse.
Senate Republicans struck back Wednesday night.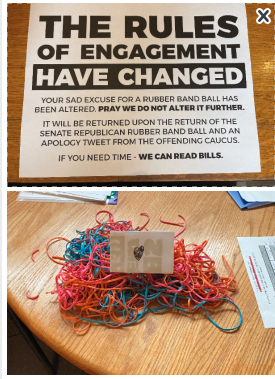 On Thursday, Winter and Smallwood, holding the remnants (maybe) of the Senate Democrats' rubber band ball (or, more likely, it was just more rubber bands he had collected), went to the podium to demand the war end. Winter, pushing back a few fake tears, wants her figurines back. "This is very disturbing," she said.
It's been almost a full week, Smallwood said. It's no real secret that the Republican caucus is going to win the contest due to the intellectual property in the rubber band ball core, he said. But what's important, he said, is that it's returned. "And my action figures," interjected Winter.
Senate President Leroy Garcia said the chief sergeants are now involved and if not successful, he threatened to call in the state patrol or the Colorado Bureau of Investigation. 
Sen. Don Coram questioned whether the theft would qualify as an offense for which someone could be denied a gun. 
Theft of a rubber band ball is not a crime for which a gun purchase can be denied, added Sen. Julie Gonzales of Denver, who pointed to the "nuance and specificity" in House Bill 1298, the background check bill. 
Given that the ball (and the figurines) had not been returned as of Friday morning's business, the Senate got to work. Coram offered a third-reading amendment to House Bill 1298 to require the perpetrator return the ball. What followed was a much-longer-than-it-should-have-been debate, with calls for unity and to get the whole [damn] thing over with.
"I don't think we're taking this serious. If we put it in legislation the perpetrator may come forward instead of facing extreme action," he said. In speaking in favor of the amendment, Fenberg asked what kind of person steals a rubber band ball, and said that person should not have a firearm for at least five years.
The still-aggrieved Winter said the amendment was not robust enough because it left out her missing action figures. 
Sen. Chris Hansen of Denver claimed the Democrats' ball has now been pilfered, too. "It's a slippery slope," he said. "I hope we can get together on sine die — whenever that is — and drop these balls… . We need to focus over the weekend on how to resolve this issue."
Sen. Larry Liston of Colorado Springs called for CBI and FBI investigations, given that rubber bands are dangerous projectiles and are in "some lunatic's hands." Clearly.
Coram said the amendment clearly did not go far enough, withdrew it and said he would seek late bill status. 
The triumphant, or at least welcome, return of "Yo_JBC_Raps"
Senate Bill 242 would use state housing grant funds to purchase hotel and motel space for homeless Coloradans. During second reading debate on the bill, and according to The Post's Burness, Sen. Julie Gonzales of Denver, the bill's sponsor, offered an amendment to clarify that it is for "HOTELS, MOTELS, HOLIDAY INNNNNNS."
If you didn't get that, you're probably not into rap music (don't worry, somebody had to explain it to Capitol M, too).
That's a reference to the 1980s song "Rapper's Delight" by the Sugarhill Gang.
On Twitter, the best part of the exchange was the much-anticipated return of Yo_JBC_Raps, who disappeared for a few years after a brilliant debut in 2011 and a much-watched run through 2015. And then, nothing for about four years and only sporadic returns since then.
Burness' tweet about the amendment resulted in a request for a response from Yo, and he/she/it delivered:
"@SenadoraJulie so smart and so fun

Knows all the good jams including this one"
and then posted the video for "Rapper's Delight."
Welcome back, Yo!
It's getting PG around here…
A recent hearing in the House Ag committee featured the first time that Rep. Marc Catlin, R-Montrose, got to chair the committee. "You're on a test flight today," he joked.
Among the bills up that day, a bill to allow outdoor cultivation of cannabis, sponsored by Majority Leader Daneya Esgar of Pueblo.
No pressure.
Her co-sponsor was Rep. Richard Holtorf of Akron, who apparently thought the committee needed an education on seed sex, or sex of seeds, or something. That led him to describe the process for separating cannabis seeds based on their sex. Hemp and cannabis are cousins and that could lead to inbreeding problems, he said.
It wasn't his fault. Catlin asked him whether a working group tasked with figuring out the outdoor cultivation issue would address the problem of "too many males." That started people laughing. Esgar, the "straight man" to Holtorf's jokes (albeit unintended) replied in a logical and reasonable way.
Holtorf then launched into the sexing of seeds. There's a process for identifying male seed from female seed, he said. "It's a tedious process that often has to be done by hand." (Insert your own joke here.) "You have to inspect every seed to determine the sex."
He said he wasn't going to get into the details (darn!!!!) but "if you don't get it right, one seed in the wrong sort can upset the whole apple cart." He said he's had family members who have spent hours and hours and hours doing "seed sexing" in the hemp industry. "You can only imagine how long that can take."
Capitol M isn't going there, either. But the jokes, which shall go unspoken , write themselves and you can guess, and so did everyone else in the committee hearing.
Capitol M did learn that if you want to know how to identify cannabis seeds by sex, you have to be 21. No kidding.
This, of course, led to some very childish giggling, because after all, it is the General Assembly. It isn't called Gold Dome High for nothing.
Things moved along properly for the next hour or so, until the committee got to the last two witnesses: Sundari Kraft, who represents the sugar beet growers and the ever-quotable Eric Bergman of Colorado Counties Inc.
Bringing them up together might have been a mistake.
"After hearing about sexing seeds and the ganja fountain of youth, I've been missing out," Bergman started. On the serious side, it's an important issue for county commissioners as they work on zoning, he told the committee.
Kraft was there to ask for an amendment.
It went downhill after that.
It wasn't Bergman's fault. Rep. Perry Will of New Castle asked Bergman about counties getting sued over zoning issues, and that led Bergman to reply that it's a big concern. Commissioners are trying to set up zoning to address the cross pollination, and then he kind of mumbled something about the female and the male, which he said he understands, or "obviously I don't, but I do have two children, maybe I do." That's when the next round of giggling began.
It was the recounting of that testimony that was the real gem.
On Facebook later that day, Kraft said Bergman's talk made her blush and then she covered her eyes, which caused one of the committee Democrats to start laughing.
"It wasn't my testimony that started it off," Bergman said in his defense, blaming Holtorf.
"Everyone on the committee was barely keeping it together ([Rep.] Dylan Roberts' face was PRICELESS). I merely remarked in my testimony that I lack an agricultural background and was a bit flummoxed by all this sexy seed talk," he said.
That's not quite accurate, said Kraft, joined by former state Sen. Andy Kerr.
"Well, I might have … uhhhh … condensed some of my remarks in the interest of time … and gainful employment," Bergman admitted.