New business is budding in Mt. Pleasant.
Cannabis, often referred to as marijuana or previously marihuana, is a rapidly-growing industry in Michigan. In recent years as more steps have been made toward widespread legalization, many businesses within the industry have been interested in developing in Mt. Pleasant due to its central location within the state.
"Mt. Pleasant has a really large market reach from a geographic perspective," says Jacob Kain, City Planner for the City of Mt. Pleasant. "Our per capita retail sales in Mt. Pleasant are about double the statewide average and that's really because so many people come to Mt. Pleasant to shop from all over the central Michigan area. People realize that there are a lot of opportunities here and being in the center of the state offers a lot of customers that you maybe couldn't reach elsewhere."
With the growth of the industry within the region comes the potential for job creation, a positive economic impact on the community, and possible reuse of vacant buildings or new construction which would contribute to or increase the tax base.
Previously the state permitted medical marijuana under the Michigan Medical Marihuana Act (MMMA) passed in 2008 which centered around a caregiving model, allowing those who had a medical need to have the product and caregivers to grow cannabis for the card holding recipients.
While cannabis remains criminalized on a federal level, the commercialization of the marijuana industry in Michigan began in 2016 when the state adopted the Medical Marihuana Facilities Licensing Act (MMFLA). The Act expanded Michigan's medical marijuana program, cleaned up gray areas from the previous law, and established the idea of licensing and provisioning centers in the retail and medical marijuana market.

Construction at High-Minded Harvest, a 37,000 square-foot Class C growing facility located on Pickard Road in Mt Pleasant, is anticipated to be completed by the end of March.
With the way the law was written, Michigan municipalities had to opt in to permit those facilities to exist in their community says Kain. The City opted in officially in 2018 and issued ordinances permitting five facility types — cultivation and growing (Class A, B, and C), processors, provisioning centers, safety compliance establishments, and secure transporters — but with limitations on the number of growers and provisioning centers in the community.
Simultaneously, the Michigan Regulation and Taxation of Marihuana Act (MRTMA) passed in 2018 which legalized possession of marijuana and home growing by adults (21 and older), and also created an adult-use (also referred to as recreational) marijuana commercial market.
There are currently two medical marijuana provisioning centers that are open in Mt. Pleasant. Another medical marijuana provisioning center along with three medical Class C growers, two adult-use Class C growers, and three adult-use retailers have received conditional authorization from the City meaning that they have met the city's ordinance standards to date and are working to achieve full licensing from the City.
Kain says the ordinances are structured so that applications may not be processed unless the applicant has received pre-qualification from the State of Michigan, which is essentially a thorough background check looking at the applicant's character, criminal history, as well as financial history.
"Our ordinances were set up with the understanding that the state had a very thorough vetting process for pre-qualification," says Kain. "Not every community requires pre-qualification to apply, but the city commission included it in our ordinance because it was a demonstration of seriousness on the part of the applicant, and also ensure that we had proper vetting of applicants before we entered them into our selection process."
Two of the new businesses to Mt. Pleasant are High-Minded Harvest, a Class C grower, and High-Minded Creations, a processor, owned by parent company Stash Ventures LLC.
Each facility is still under construction and Katie Wiley, Chief Legal Officer and Chief Strategy Officer for Stash Ventures, says they anticipate the construction, permitting, and the state licensing process of the 37,000 square-foot growing facility to be completed at the end of March.
Once completed, the High-Minded Harvest facility will have eight flower rooms and rotate around 40 different cannabis strains. Director of Cultivation for Stash Ventures, Adrien Alvarez, says they project to harvest between 150-250 pounds a week.
"We don't try to focus on THC content or potency as much, though obviously it is relevant," says Alvarez. "Cannabis, in our opinion, doesn't need to be graded by its potency. There are so many other wonderful attributes that people enjoy — the flavonoids, aromatic esters, and the whole entourage of all the active ingredients in cannabis really has a therapeutic effect on people."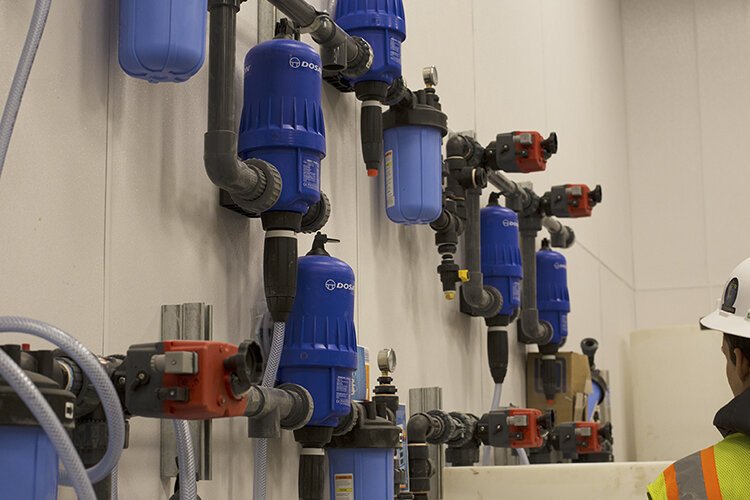 A nutrient delivery system disperses technical-grade and food-grade mineral salts to the eight flowering rooms at High-Minded Harvest, a Class C growing facility in Mt. Pleasant.
The facility uses a hydroponic growing system where all of the runoff irrigation from watering the cannabis plants will be captured so that it can be filtered, disinfected, and then reutilized.
"I was more than happy to design a system that had zero runoff because not only does it save us money, there's less impact on our water treatment plant," says Alvarez.
Further, all of the cannabis waste such as a failed plant or plant residuals will be composted on the site.
"We bring a depth of experience to this industry, professionalism, and a really healthy business mindset," says Wiley. "It's not like this major greedy corporation. Sure, it's great to make money, but we don't want to do it at the detriment of our employees, the communities in which we invest, and we definitely don't want to do it at the detriment of any of our customers."
Wiley says that they started to invest in Mt. Pleasant as a starting point years ago because of its central location in Michigan providing the business access to multiple markets.
The company also owns Timber Cannabis Co., located in Muskegon, and is currently building other facilities across the state including a growing facility in Owosso and another in Sturgis.
"I know this is a unique industry and some people objected to it," says Wiley. "It's important to us that they see us as good corporate citizens, that we do bring value, and that this isn't an awful scary industry."
For Stash Ventures, putting down roots in the community goes beyond a business venture as Wiley says that they like to engage in their local communities by supporting local causes and provide paid time off to employees for charitable involvement.
"The family is incredibly dedicated to the communities and it's really important to us that we find what brings our employees closer together," says Wiley. "Maybe that's helping with addiction and mental health, or maybe they want to build homes for the community, but our employees figure out how they want to contribute and then we support that."
The business will soon begin a hiring process to staff the facilities hiring a range of positions from trimmers, inventory administrators, and security coordinators.
"We are certainly excited that there was a strong workforce available in Mt. Pleasant and we hope to hire a lot of local individuals," says Wiley. "When all is said and done, between the facilities we'll have around 100-130 employees at varying levels of jobs."
Those who are interested in applying for a job should visit highmindedharvest.com or Indeed for postings once they are available.
"We're trying very hard to build a strong brand where people know that they can get good quality products from us," says Wiley. "We want to make sure that they have a great experience with our employees because how we invest in our team will hopefully show in the customer experience."