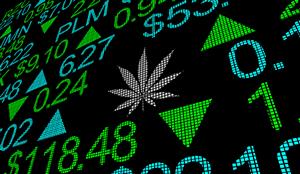 Three of Canada's biggest licensed cannabis producers (LPs) will report their latest quarterly results on Monday that will give investors the latest scorecard on how the Canadian pot sector is faring.
Canopy Growth Corp. (TSX.WEED) reported its Second Quarter Fiscal 2021 financial results, and Edmonton AB-based Aurora Cannabis (T.ACB) announced their Fiscal First Quarter 2021 Results prior to markets opening on Monday, while Nanaimo, BC-based Tilray Inc. (NASDAQ: TLRY) released its 2020 Q3 Report after the closing bell.
Fiscal Highlights
Canopy:
Achieved record quarterly net revenue of $135 million
Net Loss of $97 million
Adjusted EBITDA loss of $86 million – a 43% improvement versus Q2 FY20.
Aurora:
"#1 Canadian Medical Position by Cannabis Net Revenue & Strong International Medical Growth"
Cannabis Net Revenue of $67.8 million , Adjusted Gross Margin of 48%, or 52% Excluding Nordic 1 Ramp Up Costs
Achieved Targeted SG&A During Q1 2021.
Tilray:
Total Revenue of $51.4 Million was Flat Versus Q3 2019 and Up 2.0% Compared to Q2 2020 – Excluding Bulk Sales in the Prior Year Period, Total Revenue Increased 25%
Total Annualized Savings of Approximately $55 Million to be Achieved by Q4 2020
Net Loss of $(2.3) Million Versus Net Loss of $(36.4) Million in Q3 2019 and $(81.7) Million in Q2 2020
Adjusted EBITDA Loss Narrowed to $(1.5) Million Compared to $(12.3) Million in Q2 2020
Q3 2020 Ending Cash Balance of $155.2 Million with $209 Million Remaining Available on ATM
New to investing in Cannabis? Check out Stockhouse tips on How to Invest in Cannabis Stocks and some of our Top Cannabis Stocks.
For more of the latest info on Cannabis, check out the Cannabis Trending News hub on Stockhouse.